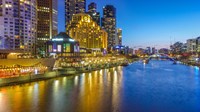 Dear Owners,
The current COVID-19 situation is clearly a very challenging time for all of us and is having a significant impact on our way of life and will continue to do so for some time.
We have set up home offices for all of our staff members so we can maintain services to our existing and new customers.
Meetings will now be conducted via Zoom Meetings and can be accessed via smartphone, tablet, PC and telephones when scheduled.
All emergencies will be our priority and we have trades that can attend.
Morley Strata would like to wish you and your families good health during these unsettling times.
Regards,
Kim Morley
Managing Director